Wainscoting ideas are all the rave these days. Why? Well, after a couple of thousand years of building houses in a huge variety of different climates and cultures, it's fair to say we have a lot of architectural inspiration out there. Modern homeowners have the luxury of picking and choosing the classical elements they like and seeing how they work alongside more modern ones. A common classical feature in many houses is the use of modern wainscoting ideas, more specifically raised panel wainscoting, in the home, and used with fireplace design ideas.
Wainscoting was born of practical reasons, acting as insulation and helping to minimize dampness in the homes, as well as protecting the walls. Nowadays though, it has lost most of its practical value and is instead a purely aesthetic feature. We are now able to see how modern features and furnishings look alongside wainscoting, by either complimenting or contrasting it.
Here's a look at which modern furnishings and features look great alongside wainscoting.
Fireplace Design Ideas with Wainscoting: Boldly Contrasting Walls
One of the most popular uses of raised panel wainscoting in modern homes is to emphasize the color of the walls. Either going with the classic white wainscoting or even colored wainscoting, a contrast can be made which emboldens the chosen color for the room. Even the height of the wainscoting can have an impact on this look, with taller wainscoting heightening the room and shorter wainscoting emphasizing the color of the walls.
Wainscoting Ideas: Wallpaper
The same idea works with some kinds of wallpaper too, although one must be mindful that the combination doesn't look too busy. Classical style wallpapers featuring pastel colors and natural designs such as flowers and vines look great above wainscoting. Modern wallpapers which utilize geometric shapes may also make for an interesting look when placed above complimentary or contrasting wainscoting.
Fireplace Design Ideas with Wainscoting: Exposed Wood
A feature that wouldn't have been a choice when it first came about, is the use of exposed wood in the home. The bare look of wood running up the walls or across the ceiling gives an almost skeletal look to a home, and wainscoting can add to this effect. With most exposed wood emphasizing the grain of the wood, the wainscoting can balance this by adding uniformity to the room. This can be further enhanced by the use of dark natural colors which complement the exposed wood and contrast the sterility of white wainscoting.
Feel Free to Find Function
While the addition of anything to wainscoting on the wall may have been blasphemy in the past, nowadays we have the freedom to make up style as we go. Wainscoting doesn't have to dominate a room and can blend into the form and function of the room with the addition of certain fixtures and features.
Some examples may include:
Installing a towel rack on the wainscoting of a bathroom
Installing built-in shelving or cupboards which line up with the wainscoting or utilize the space on one of the panels
Hanging pictures inside the sections of the wainscoting
Be sure to line up these features or fixtures perfectly before installing them, as wainscoting emphasizes parallel lines and any misalignment will be highlighted.
Twice as Nice
Another potentially blasphemous interior design trend that may have offended the inventors of wainscoting is the use of two different styles on a wall. Due to the sheer simplicity of wainscoting, this can make for an elegant look, especially in those environments which suit the generous use of whites such as the kitchen or bathroom. Other rooms may benefit from the use of natural or exposed raised panel wainscoting contrasted against typical white or off-white bead boards.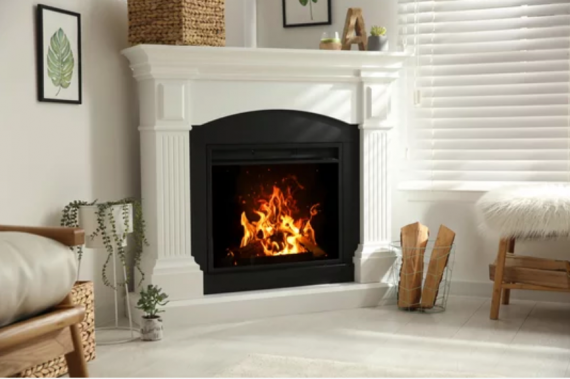 The Modern Fireplace Design Ideas
Once upon a time, families sat around a fireplace in the evenings and read books or chatted together. Nowadays, this coming together is typically enacted in front of a television set, with admittedly less chatting and reading than in years past. Televisions have themselves become a feature in the modern home and have become sleek additions that add to the beauty of a room rather than subtract. With the ability to fix a television to the wall, it's easy to see how well these black mirrors can break the look of wainscoting. Be sure to prioritize the height you prefer to watch TV rather than simply lining it up with your TV to ensure you won't hurt your, or your family's necks.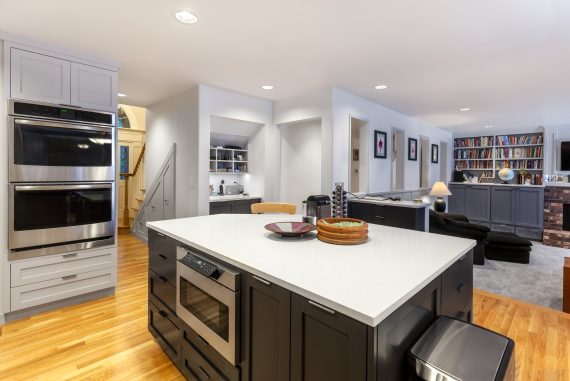 Work with the Professionals
As easy as it is to find cheap wainscoting online, the reality of what they send you is often ill-fitting and isn't durable. By working with a professional provider of wainscoting design options you can get it custom-built for your specifications, as well as expert advice on the wainscoting and what works with it. Feel free to contact us today to see how we can make your contemporary wainscoting dream a reality.