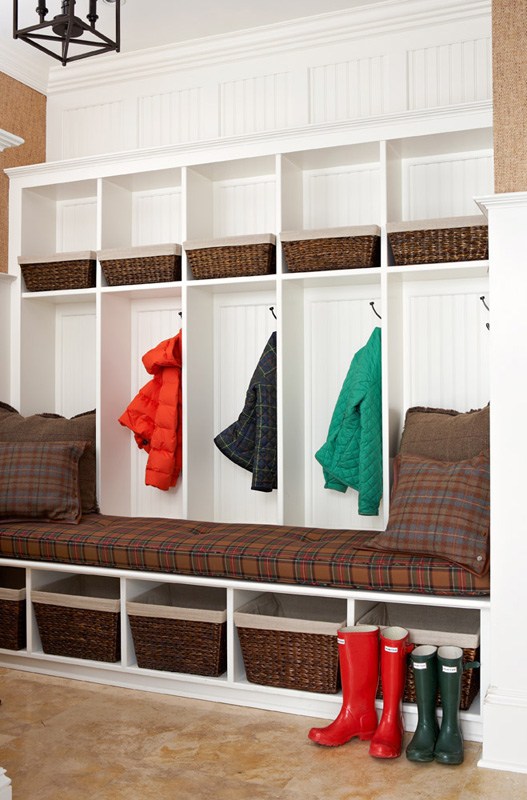 Mornings can be a hectic rush to get out the door. Some days it probably seems like there's not enough coffee in the world to get your day off to a smooth start. Add in back to school season, and you've got a mess of stress on your hands. Maybe the problem isn't what you've been doing, but how you've been doing it. Solve your morning dilemma with a mudroom for easy, time-saving organization. Here's what to do when you consider wainscoting mudroom.
First, assess your current way of life and what you do each day. Consider the things that make a day more difficult, the messes that get brought through your door, which items you always need but can never find, and the ones you can't find a place to put away.
The second step is to select a place for your mudroom. A few great locations to consider are by the front or back door of your home, in a cleared out hall closet, in the garage, or in empty hallway space. You can create an excellent mudroom by using almost any nook in your home.
Once you know what the biggest problems are and what space in your house you're going to use, add in these wainscoting mudroom ideas to create the perfect mudroom.
Hooks, baskets, bins: These are perfect for jackets, scarves, hats, gloves and mittens. These also make a great place for keys.
Cabinetry: Get storage space that will fit perfectly in any area with custom built-in cabinetry. Having control over the dimensions also guarantees you'll have cabinetry that will fit in awkward or narrow spaces. Use your built-in for bags, backpacks, shoes, sporting equipment, and any other items you may need on your way out the door.
Seating area: Adding in a stool or small bench creates a place to sit for putting on/taking off shoes, or to rest while unpacking items from bags. This helps improve the functionality of your mudroom.
The right materials: While selecting materials, think about both simplicity and cleanliness. If your mudroom is going to be facing a lot of dirty shoes, your need easy to clean floors. Alternatively, use a mat that can handle all that dirt and foot traffic.
Every mudroom is unique, so custom elements are the key to making yours completely meet your needs. We can help you make your ideal mudroom with fully customizable built-in cabinetry.