Step 1
Please Select a Style From Following Wainscoting Collections:
Step 2
The Collection offers the following design options:
Step 3
Wainscot collections with raised panels have a choice of panel profile. The panel profile is the edge style of the center raised panel. Recessed/flat panels, including beadboard, do not have a profile/edge.

All collections have a choice of Rail & Stile profiles.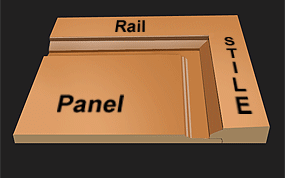 Waiscot Panel and Rail/Stile Frame Profiles
Step 4
Please Select a Cap Molding:
All Cap Moldings sold in 8' lengths.
Step 5
Please Select a Base Molding:
All Cap Moldings sold in 8' lengths.
Step 6
How to measure your wall and enter those measurements here?


Starting from the left side of the wall, measure from the corner to the first obstacle that interferes with the wainscoting. Only include windows in the measurements if they will interfere with the wainscoting. If they land above the winscoting area, ignore them.

In the example below, we encounter a window that will fall within the wainscoting area. So we measure the first section width up to the window. Then we measure the width of the window (including trim) and the height from the floor to the bottom of the window. We then measure another straight section with until we encounter a door and make note of the door's width. Next we measure another straight section, followed by a small straight return section and indicate this as a 90 turn-out. Next we measure until we reach the angled stair stringer, followed by a measurement of the remaining width until this meets the vertical part of the stringer (and make note of that height).
Click on the elements to add it to the virtual wall below
The left side of this wall:
The right side of this wall:
All Wainscoting sanded and primed?
This option costs an additional $7.00 per foot. | Priming is white - water-Bourne primer